Here you can see a quick overview of all the varieties of rotating unions.
A rotating union is a machine component that provides the sealed transition of a fluid or fluids from stationary supply lines into/out or through a rotating machine element such as rollers, cylinders, tables, spindles, or drives.
One Passage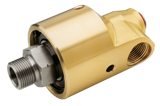 Two Passage

Three Passage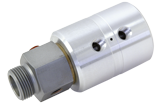 Four Passage

DEUBLIN Rotating unions are available for a wide range of industrial areas and can transfer fluids such as water, thermal oil, hydraulic oil, air / compressed air / pneumatics, coolant cooling lubricants, vacuum and as well as signals and electrical power via slip rings: From single- to multi-passage versions and with different sealing principles, more than 1,500 standards and thousands of special solutions are available to you.
If you already know exactly what you need,
just send us your inquiry by mail or contact form.
If you cannot find what you need or have any questions, comments or suggestions
please contact us - +44 1264-33 3355