Rotating union series 2400 for continuous casting plants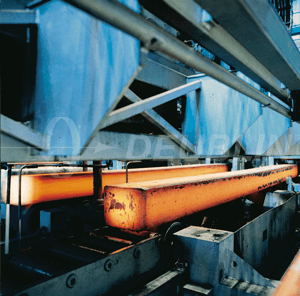 It is well known that rotating unions in continuous casting plants operate under extremely tough conditions: The cooling water flowing through is of very poor quality, mostly unfiltered and it brings with it particles which have an abrasive effect on the rotating union. Dirt from the surrounding air also settles on parts of the system and easily comes into contact with the rotating parts within the machine. Finally, there is also the mechanical strain which is exerted on the "rotating union roller" system, such as components which are not 100% aligned.
These factors limit the life span of each rotating union, as it is a wear part.
A further "environmental condition" is reducing the client's costs as much as possible. This means preventing machine downtime and keeping maintenance costs as low as possible.
As a market leader for rotating unions, at DEUBLIN we see it as our duty to consistently adhere to these points, i.e. maximise the life span of rotating unions, or if repair work or replacement is necessary, keep the associated costs as low as possible.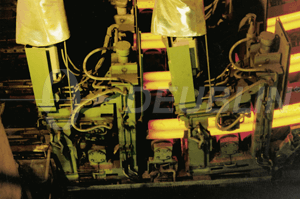 That is why the Series 2400 is, thanks to its basic design, which is similar to its predecessor model, a rotating union assembled in the roller, the rotor of which is fed into a long bearing bush.
The seal is made using a proven style with pressure-balanced mechanical seals made of silicon carbide against silicon carbide. The technical construction and combination of mechanical seals guarantee a constant torque and high life spans in light of known poor water quality.
In other words, a Series 2400 rotating union concentrates the sophisticated properties of the earlier series 2000 and 4000.
The DEUBLIN modular concept now gives the operator the advantage of being able to revert to components which have been tested 100,000 times, even when using the 2400 series. Extra-special attention has been paid to minimising dirt sedimentation in the rotating union and its abrasive/corrosive effect due to installation and the materials used.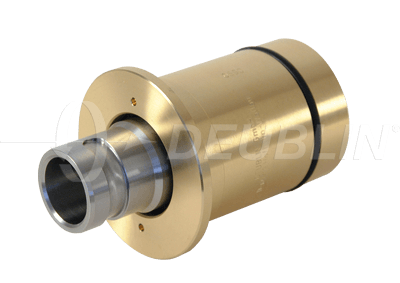 Moreover, all components are designed with "defined flexibility" which balances both smaller misalignment errors and wear and tear, without influencing the sealing.
These rotating unions also have new seals which prevent the entrance of dirt from the surroundings and also make field maintenance easier. Maintenance can be carried out in minutes, even by less qualified staff!
The complete housing compatibility of the Series 2000 has been retained, in order that "replacement costs" are not incurred during the switchover.