Deublin Electrical SlipRings (EN)
DEUBLIN is the leading manufacturer of rotating unions for use in the industrial sector and wind power industry. Building on decades of experience in the implementation of sophisticated rotating union applications, DEUBLIN has developed electrical slip rings in such a way that they meet the requirements of today's demanding environments.
The electrical slip rings use the newest technology in order to guarantee long-term operation and a reliable connection of signalling and power.
DEUBLIN slip rings were developed in order to meet the demands of industrial manufacturers for a longer operating lifespan. The integrated system was optimized with the help of special material configurations which are designed to enable a hundred million of rotations, whereby long-term smooth operation at high capacity is achieved. What is most important for DEUBLIN during the development phase is high reliability which significantly reduces downtime and maintenance costs.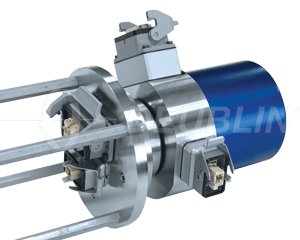 As with all DEUBLIN products, our slip rings are 100% tested before being used operationally and they are manufactured using the most modern of manufacturing processes. Durable technology ensures constant and reliable performance and maintenance-free operation.
Please download our product overview

040-754-RevA-Slip-Rings-overview.pdf (912.1 KiB)